7 Oatmeal Mistakes to Avoid
Here, we unveil the health-promoting secrets to making and topping your bowl — because there are ways to get this breakfast staple wrong. 
Oatmeal is the quintessential breakfast food: It's quick, it's simple, and it's delicious.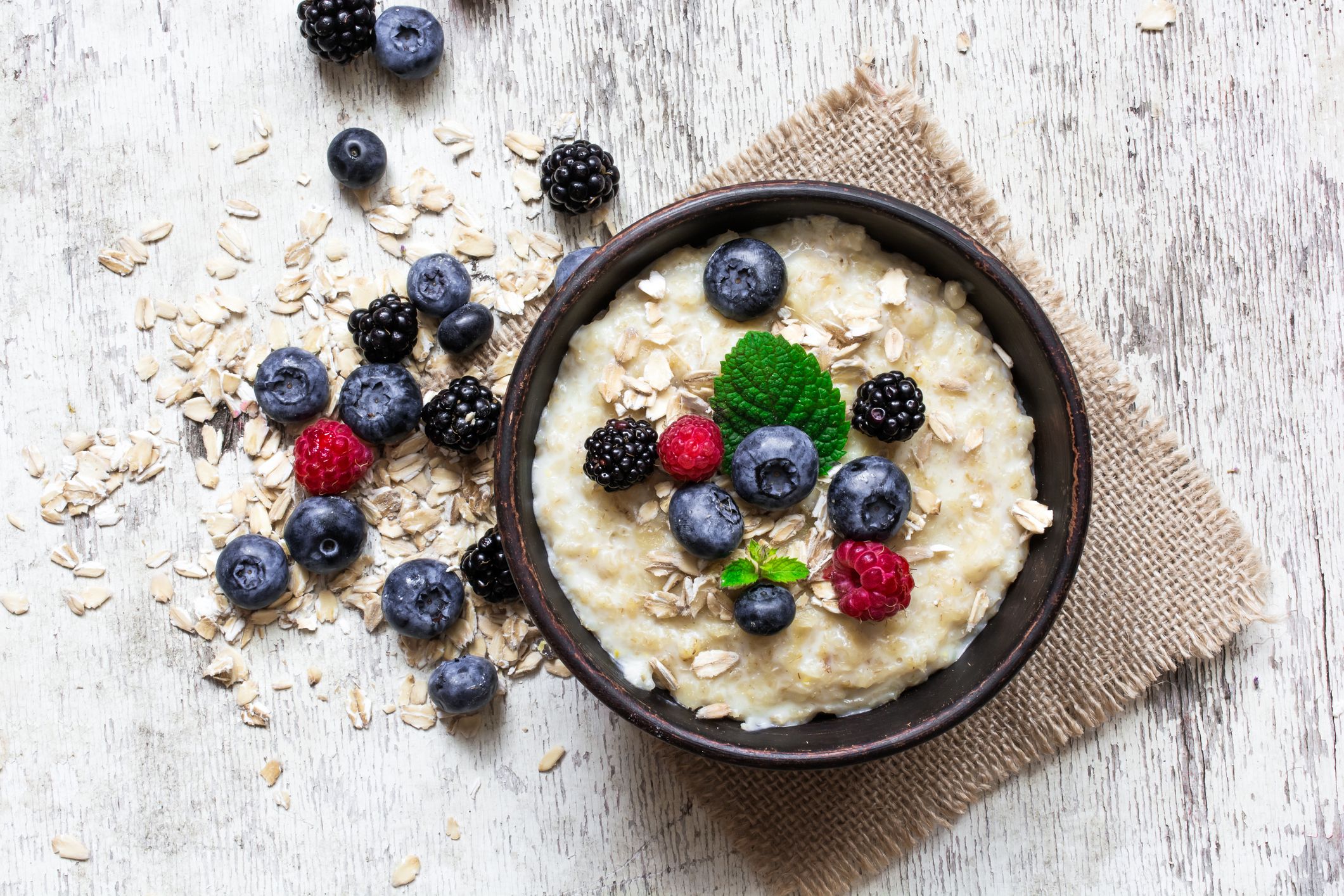 Oatmeal is a classic breakfast. And if you've gotten the impression that it's a plain and boring meal that is only carbs, think again. Make it right, and you can have a well-balanced bowl of oats that contains the right amount of carbohydrates, protein, and fat, which will keep you full and satisfied throughout your morning. Oh, and, you'll want to make it delicious, too. By acknowledging these common missteps and following registered dietitians' tips, you can prioritize health and taste. Here's what you need to know.
1. You Aren't Serving Up the Right-Sized Bowl
One cup of cooked oatmeal is a healthy serving size, says Jessica Crandall Snyder, RDN, CDCES, and CEO of Vital RD in Centennial, Colorado. That amount will contain 154 calories, 27 grams (g) of carbs, and 4 g of fiber, according to the U.S. Department of Agriculture.
That doesn't have to be the only part of your breakfast either. "Go ahead and have eggs on the side or throw berries on top," she says, which will add more filling nutrients (protein, fiber) and volume. If one cup looks disappointingly puny in your bowl, it might be helpful to downgrade to a smaller vessel, like an appetizer bowl, she says.
2. You're Sticking to Water Only When Making Oats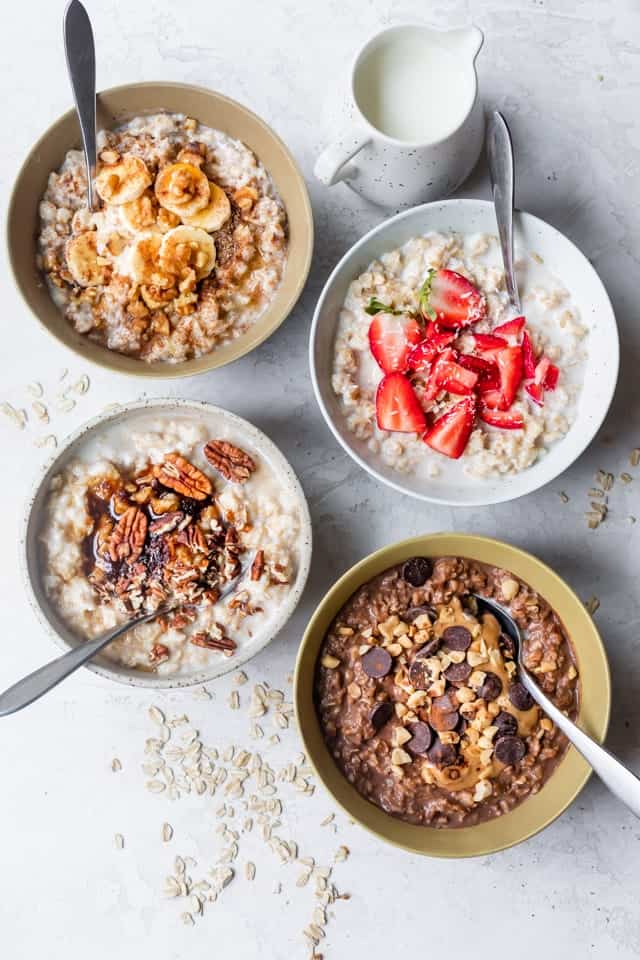 If you love the way oatmeal tastes when it's made with water and oats, continue to make it as you wish. But don't be afraid to experiment with dairy and nondairy milk, says Seattle-based registered dietitian nutritionist Ginger Hultin, spokesperson for the Academy of Nutrition and Dietetics and owner of Champagne Nutrition.
These liquids do add calories: 37 per cup for unsweetened almond milk, according to the USDA, and around 100 for soy or low-fat (1%) cow's milk. Your choice depends on your goal. If you're aiming to make your bowl creamier for fewer calories, opt for almond milk. If you're looking to add in protein, try soy (6 g per cup) or low-fat cow's (8 g per cup). Along with that, "any dairy or fortified nondairy milk will add in extra minerals, so you'll get a boost of nutrients, too," says Hultin.
3. You're Not Adding Enough Protein on the Side
When putting together meals, Snyder makes sure she has a source of healthy complex carbs, protein, and produce. The same goes for oatmeal, but it may be even more important because it's easy to think of your bowl as a complete meal. The oats supply healthy complex carbs and topping it with fruit will get you the produce (and more carbs), but you'll want to incorporate protein to round things out. (One cup of cooked oatmeal made with water has 5 g of protein, per the USDA.) "I recommend 15 to 20 grams of protein at breakfast. Getting to this number creates more satiety, supports muscle mass and metabolism, and helps balance out your blood sugar," she says.
Some ideas: Make your oats with soy, cow's, or protein-fortified plant milks. Add in a scoop of protein powder. Stir in PB2, a personal favorite of Snyder's; the powdered peanut butter nicely dissolves when stirred in and 2 tablespoons adds 6 g of protein. Nuts, nut butters, and seeds will also bump up protein. For instance, one ounce of almonds has 6 g of protein, according to the USDA.
4. Unhealthy Toppings Have Made Your Bowl a Sugar Bomb
It's easy to go overboard on sugar, as a result of including sneaky and obvious sources in your bowl. For instance, flavored, sweetened nondairy milk, some nut butters, and sweetened dried fruit contain added sugar, as the USDA notes. Then, there's the addition of brown sugar, maple syrup, or honey, all of which are sugar. "Adding a lot of sugar to an already carbohydrate-rich breakfast can cause it to become imbalanced, as it's high in carbs but low in fat and protein," says Hultin. Make sure you're using unsweetened nondairy milks and unsweetened nut butters to restrain added sugar. She also likes to mash in half of a banana for "high-fiber, natural sweetness." (A half of a medium banana has 1.5 g of fiber, per the USDA. That's about 5 percent of your daily value.) You could also sprinkle your oats with cinnamon and nutmeg during or after cooking to impart a natural sweetness, says Snyder. Topping with fresh fruit, such as berries, is another way to sweeten your bowl!
5. You're Standing Over a Stove When You Don't Want to Be
Stirring oats on the stovetop may be the most traditional way to make oatmeal, but it takes time and requires attention, lest they scald. (Yuck.) Steel-cut oats take 20 to 30 minutes to make, says Hultin, while rolled oats can be made in five minutes. But if that's unappealing, you can make oatmeal in ways that work better with your lifestyle. "You can actually microwave either type of oat for a more hands-off approach so you can multitask," she says. Stovetop or microwave will not change the nutritional properties of oatmeal. Another option: If you have a slow cooker or an Instant Pot, make a larger batch, portion it out for the week, and reheat, says Hultin. Just stir in a splash of liquid to get it creamy again — and grab a spoon.
6. You're Eating a Certain Type of Oats Because You Think They're 'Healthier'
Steel-cut, old-fashioned oats, and rolled oats: "It's shocking, but they're all essentially the same," says Snyder. "The manufacturing and processing [to get the different shapes of oats] differs, but the nutritional values are the same," she says. Each type of oatmeal offers unique textures, and some you'll find more enjoyable than others. Go for the type you like the most, because eating healthy should make you happy. The one exception is the prepackaged packets of instant oats. Many of these are flavored and contain added sugar. If opting for instant, choose the plain variety and gussy it up yourself.
7. You're Always Eating Hot Oatmeal
Oatmeal is known as a hot cereal, but a wonderful thing happens when you combine dry oats, yogurt or milk, fruit, and (maybe) chia seeds in a container in the fridge, says Snyder. After several hours (or, ahem, overnight), the oats absorb the liquid, plump up and soften into a familiar texture, and become "overnight oats." These are eaten cold. The benefit is that there's little prep, you don't have to cook a thing, it switches up the style of oats to add variety, and they're perfect as a snack. "I like to make overnight oats in to-go coffee cups, which I could just grab and head out the door," Snyder says.